How Do I Find and Request Collection Materials?
This tutorial will show you how to:
     Learn More about What Is Included in a Collection
Search the Collections
To search the inventoried collections in the Special Collections and University Archives (SCUA), proceed to the Collections finding tool at https://archives.colgate.edu.
This finding tool searches the collection inventories in SCUA, which describe documents related to the history and work of the university, historical and literary manuscripts, and materials related to local or regional history.
Begin with a keyword search, e.g. athletics, as shown in the image below. To search a specific phrase, enclose it in quotation marks, e.g. "Gerrit Smith".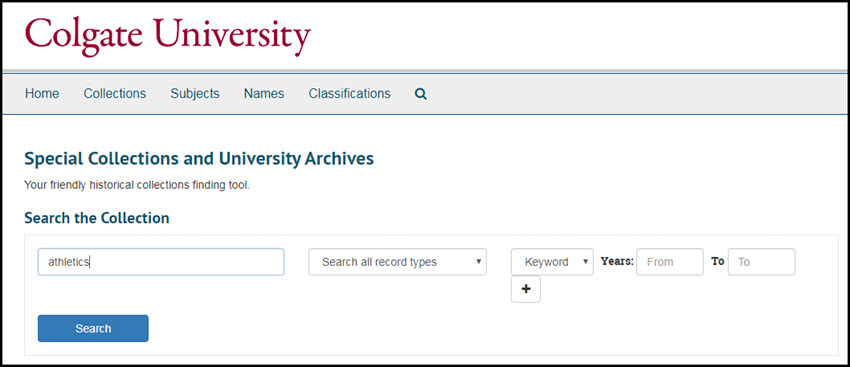 Here are some additional sample keyword searches:
1. Search the name of a person, organization, department, or office:
       Whitnall
       "Glee club"
       sociology
       "buildings and grounds"
2. Search for a specific topic:
       coeducation
       diversity
       salt
3. Search for a place or building:
       Hamilton
       "Chenango Canal"
       "Memorial Chapel"
For greatest success, do multiple searches using a variety of words and phrases related to your topic.
Be aware that entering multiple keywords into the single search box, e.g. athletics photographs, will place an unseen OR between the terms, thus retrieving all records that have the term athletics OR photographs.
Instead, use the "plus" button to the far right of the search box line to add another search box, and enter each term in a separate box. Notice that this changes your search to athletics AND photographs, i.e. both terms must be present in the retrieved results, reducing the number of results considerably, and increasing their relevance to your search query.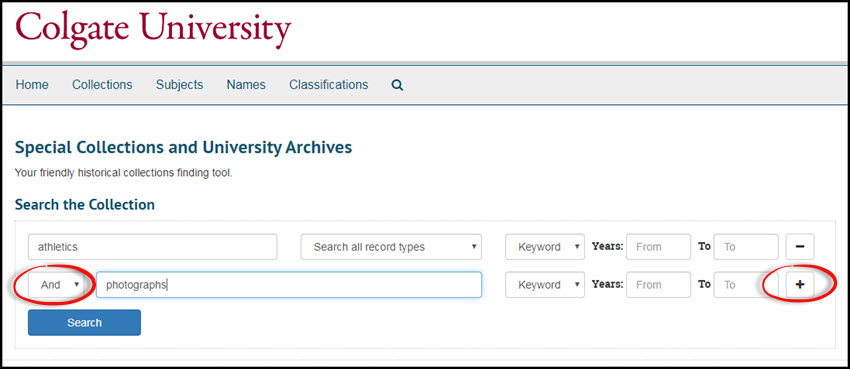 Understand Your Results
In most cases, your results will be categorized as one of two record types: Collections or Archival Records. (The filtering options on the right side of your screen will indicate how many of each are included in your results list.)
 
A Collection is a group of items that were created and/or gathered by a single source such as a family, individual, organization, university office, etc., or a group of items that have some other unifying characteristic, such as format (e.g., photographs, or post cards) or subject matter (e.g., tobacco advertising). 
 
An Archival Record represents an item, folder, or series of materials within a collection. 

The breadcrumb trail ("Found in:") included in the information accompanying each retrieved item identifies the name of the Collection in which the item or series will be found. You will need the Collection Identifier in order to request to see an item; this will be an A or M followed by a 4-digit number.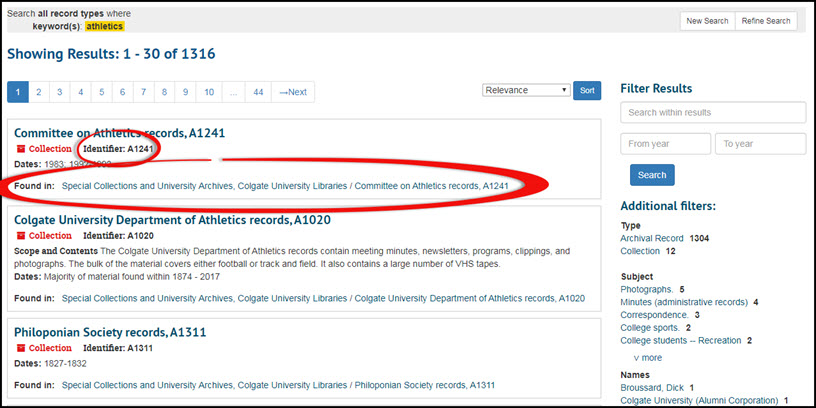 Learn More about What Is Included in a Collection
Here is the record for a single collection: Colgate University Department of Athletics records, A1020.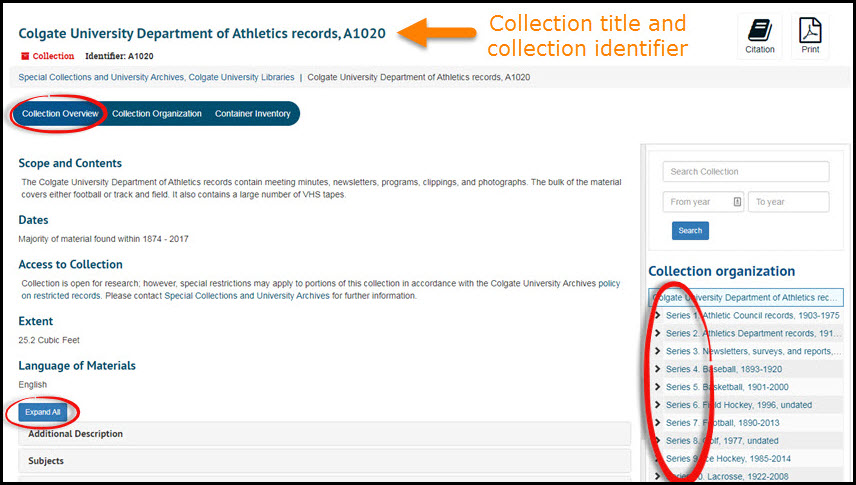 Use the three blue buttons labeled Collection Overview, Collection Organization, and Container Inventory to learn more about the collection.
The Collection Overview provides general information regarding the scope and contents of the Collection, the dates covered, access rights to the Collection, and a measurement indicating the physical extent of the Collection. For additional information about the Collection, click on the "Expand All" button.
The menu to the right shows how the Collection is organized. It may include series or organizational groupings, or be a simple list of contents.
Next click on the Collection Organization button. This expands the Series menu and lists the contents of individual files and folders in the Collection. This page also includes the Collection identifier, and the file/volume and folder numbers that you will need in order to request materials.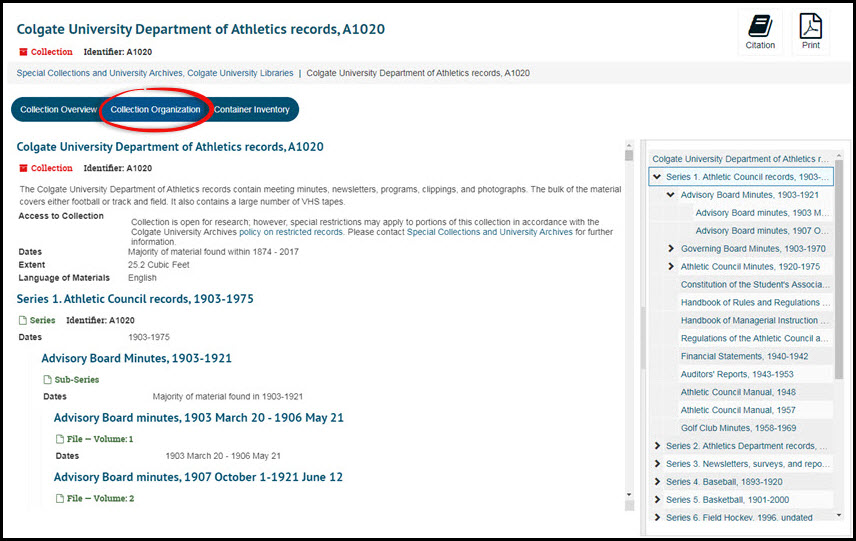 Request an Item
Use the online form on the Special Collections and University Archives web page to request materials. In addition to your contact information, you will need to include:
Collection Identifier, or Book Call Number
Collection Title, or Book Title
Box or volume number
Folder number(s)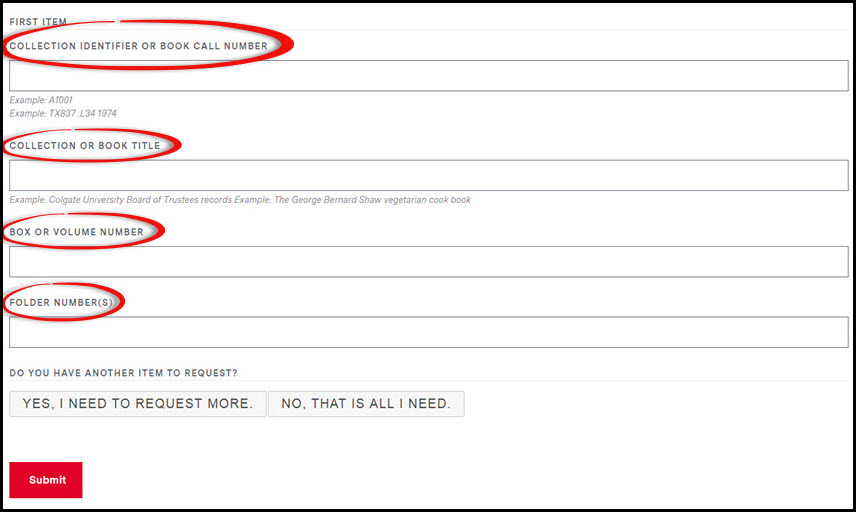 This information can be found in the record display for each item:

If you have additional questions about how to find materials, please contact a member of the SCUA department.